About Us
We rescue mini and standard schnauzers who need homes.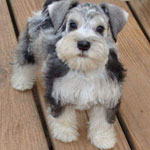 Miniature Schnauzer Rescue (MSR) was founded in 1988 by Jonnie Hart with funding help from the Portland Miniature Schnauzer Club.
The goal was to help schnauzers in need find new homes. The misconception was that MSR couldn't get too big – after all, who would give up a schnauzer?
The Early Years
The group grew slowly, placing about 12 dogs per year and then along came the internet! The increased exposure from the worldwide web resulted in 58 dogs being placed through MSR in 1995! Our rescue has placed between 20 and 50 dogs annually ever since (
see chart
).
In 2000, the group was incorporated as Miniature Schnauzer Rescue, Inc. and became a 501(c)3 tax-exempt, non-profit organization making
your donations tax deductible
.
All Volunteer Run Organization
In 2016, the group reorganized and is now focused on rescuing mini, regular and giant schnauzers who need their forever homes. We welcome
your support
.
After 25 years, MSR continues to be run solely by volunteers. We do not have a dedicated facility; we operate out of individual
foster homes
scattered throughout Oregon, Washington and Idaho. We are able to see the dogs in a home environment and can fully assess them so they are placed in an appropriate forever home.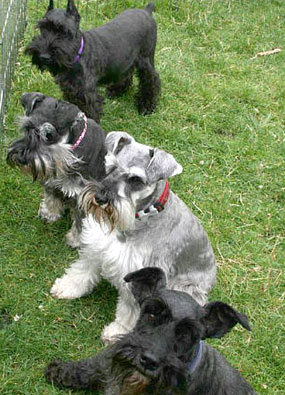 Taking a time out: Schnauzers resting at the Schnauzer Walk