Rescuing a Miniature Schnauzer
We rescue mini and standard schnauzers who need homes.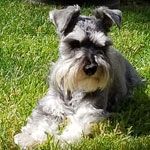 Miniature Schnauzer Rescue, Inc., (MSR) of Portland, Oregon was founded in 1988 with the sole purpose of finding homes for Miniature Schnauzers who are homeless through no fault of their own and would love to have another, forever home. Most of the dogs are owner surrenders; some come from shelters where they have been unclaimed.
Owner surrenders are usually the result of:
Senior citizens who are no longer able to care for their dog, due to a change in their living situation, such as a move to assisted living or a nursing home.
Death
Divorce
Blending of families or a baby on the way
Unfamiliarity with the temperament of Miniature Schnauzers or terriers in general.
Lack of time
We hope the following information will be helpful to you as you begin the process of adoption.
Our Adoption Process includes:
Completion of an extensive Adoption Questionnaire that helps us match you to an appropriate dog
A phone interview when a seemingly appropriate dog becomes available
One or more home visits with the adoptable dog including meeting of all family members and any other pets
Agreeing to all of the terms of and signing a binding Adoption Agreement
Condition of Schnauzers
ALL dogs placed by Miniature Schnauzer Rescue, Inc. (MSR) are spayed or neutered. Most are freshly groomed, brought up to date on vaccinations and have had any necessary dental work completed along with other medical issues addressed. When a dog comes to MSR, the dog lives with one of our wonderful volunteers in a loving "foster home," until the right people are found to adopt them. During their stay in foster care, the dog's behavior is assessed as well as its physical condition. The average age of dogs in our care is 3 to 7 years. Occasionally, there are younger dogs and some are older. Rescue is not the place to look for a puppy. Our
puppy referral service
is
the place to look for a puppy
.
If you are looking for specific characteristics in a rescue dog such as color, sex, age or personality traits, then patience will be a necessity. We do not actively search for dogs with specific traits for potential adopters. Rather, we make the best possible match between available dogs and the people on our waiting list.
Period of Adjustment
Schnauzers who are given up by their existing owners or who have had a difficult start in life usually bond very closely with their new family. Some do go through a temporary grieving process and may be depressed for a short time, but with love and understanding they soon attach themselves
"like Velcro"
to their new owners. They try very hard to please, to make sure they will never again be abandoned. Some of our rescues are learning about the "good life" for the first time and blossom once in a loving and secure environment. There will normally be a period of adjustment, with minor indiscretions such as an occasional accident in the house, but with forgiveness, kind discipline, and lots of TLC on the part of the new family, your rescued Schnauzer will soon become an integral member of your household. Most rescued Schnauzers make exceptionally affectionate and attentive pets and are extremely devoted and loving companions.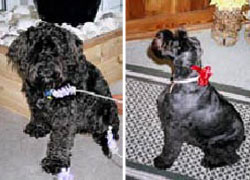 Before/After a Haircut: Janice and Graham drove from Vancouver, B.C. to Idaho to pick up Sookie. They sent pictures of her before and after her new "hairdo." She is well loved!