Beau's Happy Tail....
Against All Odds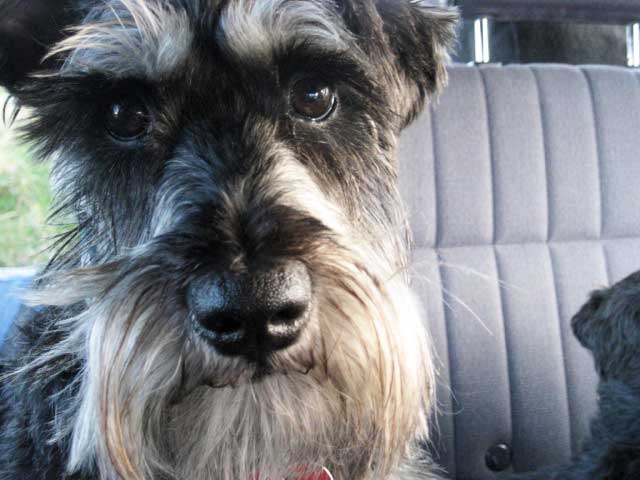 Beau, his mother Ruby, and father Tucker belonged to an elderly couple in the Bremerton area. The couple lost the ability to care for the three schnauzers, and a relative took them in. Unfortunately, the dogs were crated in the back bedroom and/or garage, day and night, for over a year. Miniature Schnauzer Rescue was contacted by a Boxer Rescue representative who had become aware of the neglectful situation, and had been able to secure the release of the dogs.
Foster homes were arranged, and the three schnauzers were picked up, scruffy, dirty, and matted, by Jonnie & Leslie with Miniature Schnauzer Rescue. Ruby and Tucker were placed in foster homes in the Portland area, and ultimately adopted. And Beau moved in with foster mom, Nancy, in the Tacoma area.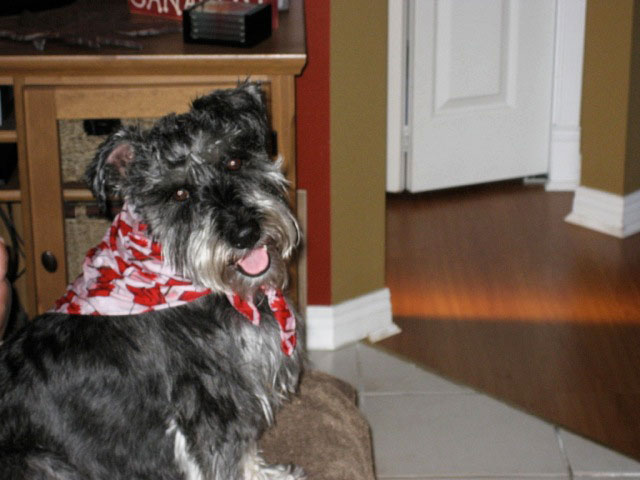 Beau in his Canada Day scarf
Nancy continues Beau's saga:
"I remember a very dirty little pup that came in so deprived of attention that he just ate up all the freedom and attention he could get. He became one of our pack; played with our dogs, Fritz and Shooby, and then he tried to play with Juliet . . . but no one plays with Juliet except me. She doesn't like it if the boys play too much or too loud and she tells them to stop. I don't know what she says in dog language but they always listen to Juliet and quit doing what they were doing.
Beau had several couples look at him, each time getting all groomed up to look his best. The first couple well . . . he just wasn't a fit. It was the second couple that took him after a very harsh meeting for them. Beau could feel a difference in the air or my scent or whatever. Who knows, maybe Beau had put together the idea that he was leaving. While letting Shaun and her husband, Brian, in our home, Beau grabbed Shaun's jeans with his teeth. This was new for Beau being very protective of me or feeling that he had to protect our home - something Beau had never done before. He grabbed Shaun's jeans so hard he made a small hole in them. Shaun, without missing a beat, sat down on the floor, letting Beau come over to her, talking to him, and then finally petting him. Brian hanging back and watching and talking to Beau, also sitting low. After a while Shaun brought in Elliott, their dog, from the car. After a few minutes, we let them get together and Beau again felt the energy change, and grabbed Elliot's head with his mouth, and released right away. This whole time I'm thinking this placement visit can't get any worse. Then they took Elliot and Beau out for a walk together. Beau didn't have a problem with the walk but, after coming back into the house, Beau again grabbed at Elliot with his mouth. I'm thinking this is it . . . he is staying here . . . he just blew his placement chances. And then Shaun said that they would take Beau with them. I couldn't believe it - Beau had been at his worst, and yet Shaun and Brian saw past this little guy's bad behavior and were willing to take him".
And from Shaun & Brian:
"Beau has developed into a lovely little dog. Unfortunately he has never gotten over his anxiety of being around other dogs. His anxiety causes him to be a little aggressive and to bite. As the trainer at dog class stated, "He doesn't want to be bad".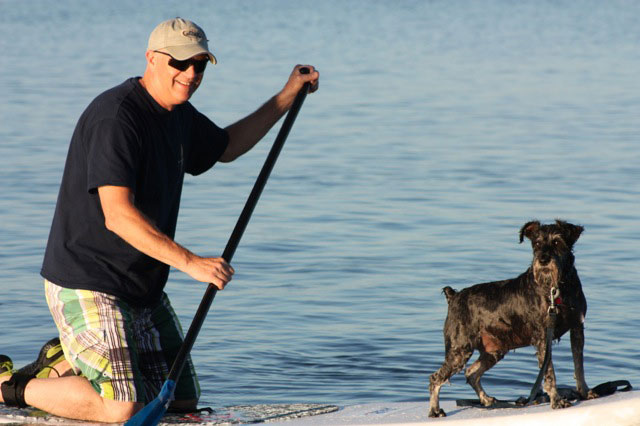 Brian and Beau Out for a Ride
When we arrived home with Beau on his adoption day he settled right down on the couch with Brian and watched the hockey game, so we knew he'd turn into a good little Canadian. On his second day he bit Elliott so hard that Elliott had to have staples in his ear. The vet asked him how long was I prepared to continue with the new dog and his bad behavior. I said that I couldn't take him back and that Brian and I had made a commitment. Beau went off to bad dog class and never bit Elliott again.
Beau also struggled with Separation Anxiety and when we left him alone he would reward us by peeing on our bed linens and pillows. When he heard us returning he would go upstairs and howl. I'm happy to say that Beau is now over this particular anxiety and no longer leaves us "presents". Now, when we return home, he is very proud to do the "tour" of the house and then to hear that he has done "a good job".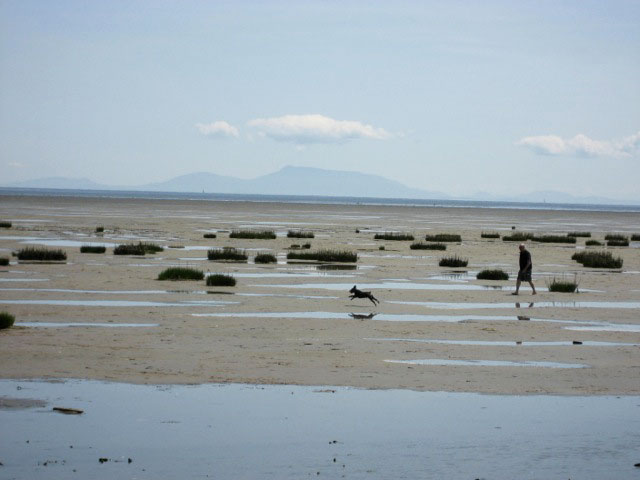 Beau in Flight
Beau has turned into quite a talker and will speak to us about his adventures by howling, barking and snorting. He takes great joy in being with Brian. Beau loves the truck and has a special spot built for him by Brian so that he can see out and navigate. Beau also loves to sail but always wears a lifejacket as he sinks rather than swims.
Elliott has since left us and Beau revels in being an "only dog". He loves all his human friends. When Beau first came to us he was quite uncertain about petting. He seemed unsure as to why people would want to touch him. Now he loves to snuggle and to be massaged. Beau will go to bed in his own area every night but only after he knows everyone is in bed as well. At 0400 every morning he gets into our bed and curls up at our feet. Beau likes to spoon and have his ears kissed.
We adore Beau and we thank you again for entrusting him to us. He has been a challenge, but has brought us so much pleasure". Shaun & Brian
And from Jonnie with MSR:
Shaun, Brian, and Elliot worked through the behaviors, and made it work for Beau. He attended two different levels of "Bad Dog" school, and additional training with the police dog trainers. Was it easy . . . probably not!! Did it work . . . YES! They have a great Miniature Schnauzer and Beau has a great home, in Canada. Shaun and Brian are both Constables (police officers) - and have had more patience than anyone we know. Looking at the picture of Beau, running free on the beach, gives true meaning to the words rescue and rehabilitation.