Bozeman's Happy Tail....
So He Can Be His Happy Self Again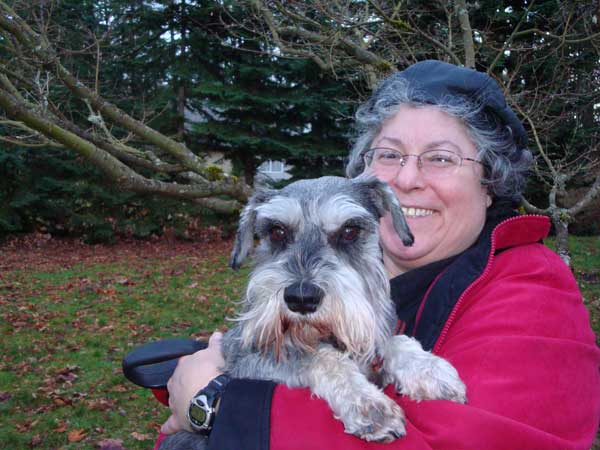 Bozeman used to be a happy, mellow dog. But as his family grew . . . three daughters under the age of 5 . . . his world changed. The girls were very active; running through the house screaming and playing. At eight years old, he became more and more stressed with the activity level.
His owners tried behavior supports - and training, but finally ran out of options. Bozeman ended up spending more and more time outside, where it was peaceful and quiet. All they wanted for Bozeman was a normal, calm environment where he could thrive, and get all the snuggles that he loved. A home where he could be his happy self again. Miniature Schnauzer Rescue was asked to help find a home where Bozeman would get the love and peace he deserved.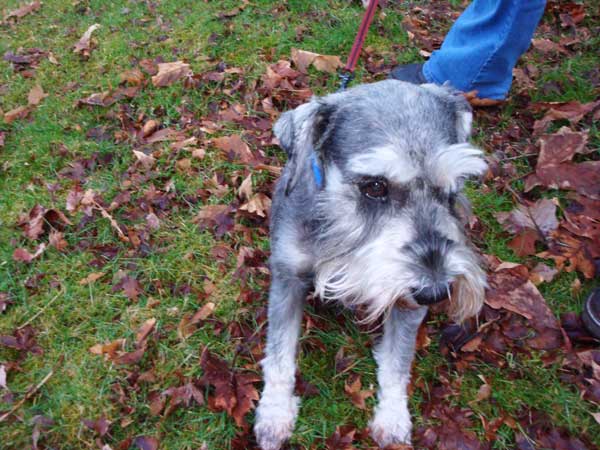 Time for a walk in the park
Bozey found his happy home in December 2011 - with Debra, who continues his story: "I am so sorry it has taken so long to get pictures to you, and hope it was worth the wait for the devastating cuteness of himself, the Bozer. I got him clipped super short except for the moustache and eyebrows, and he is simply dashing. Also, we don't have to have wars over grooming efforts, as he easily allows me access to his face, but wasn't so kind with his body hair when he had it.
He is my constant companion, riding with me in the van during the day and sleeping with me at night. Oddly, when I first got him, he seemed baffled by the dog door, and could not figure out how to use it. We tried pulling him through with his leash, pushing him through from behind, having treats and even an entire bowl of food as a reward, and he just could NOT get how to use the dog door. Then a cat sneaked into the house, and Bozeman chased it out the door so fast he freaked himself out and instantly ran back in - and then ran out again, and in again, out again...the cat taught him in one fell swoop in a matter of seconds what I couldn't teach him in days and days of effort.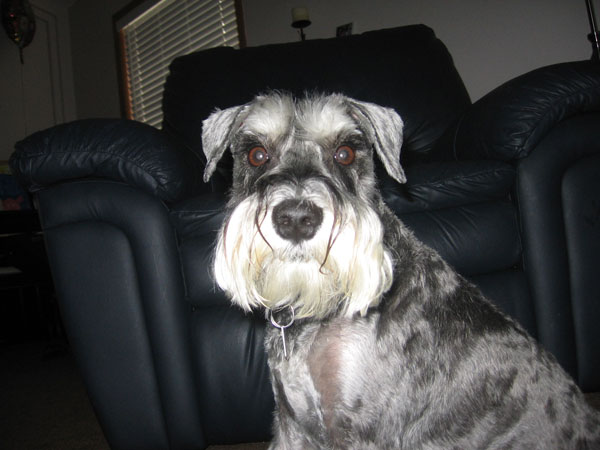 Bozeman's world had changed
Bozeman continues to calm down and settle into being the only child and therefore the recipient of much affection, not only from mommie, but from all of mommie's friends. He seems much less anxious while maintaining an exuberant amount of energy. He's precious to me. Thank you again for bringing us together. I love my Bozeman every day of my life.
Hope you are well and that life with you and yours is good.
Debra