Duke's Happy Tail....
The Little Boy Finally Finds a Home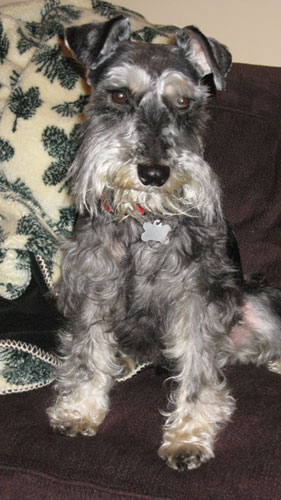 Duke was born on September 19, 2005, and finally found a home where he is loved and appreciated on March 26, 2011. Duke was first given to a woman and her children as a puppy. They could not keep him when they moved, so he was given to her mother. Duke was then given to a co-worker, her daughter, and her mother. He was the intended companion for the mother, however he never stopped bothering the cats, and was "too much for the mother", so he was returned to the mother who had placed him. Mothers, and more mothers!
Duke stayed put for two years, and a second Miniature Schnauzer, Dickens, was brought into the home at that time as a companion to Duke. They loved to play, but the owner felt Duke would do best in a home where he was the only pet, and new owners would have time to devote to him. She said Duke and Dickens were both competitive and attention seeking miniature schnauzers, and both found themselves looking for new homes - again.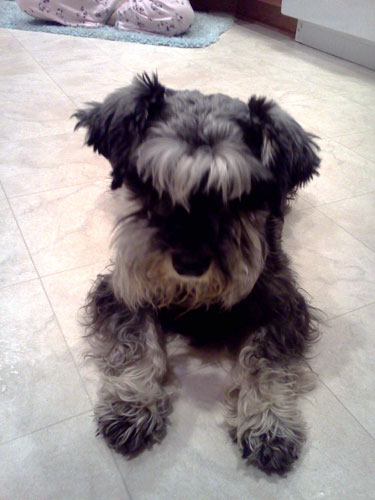 Nancy's puppy, pre-grooming
Duke moved in with his foster mother in March, 2011 and did well right from the start. He listened, played nicely with his foster brother, Henry, was not overly possessive with food or toys, was not destructive, knew sit, lie down, down, and stay - what more could you want? His foster mom said Duke was a very loving, good boy!!
And finally, along came Nancy, who adopted Duke on March 26, 2011.
Nancy continues Duke's story: "You will not believe this!! Friends gave Duke a puppy shower last night, and he was just as well behaved with the ten people there as he is at home with just me or a couple of friends. He just continues to amaze everyone." April 1, 2011
Nancy sent an update for Duke on November 9, 2011:
"He is still great! Had no problem adjusting to being an only dog . . . is definitely King of the Castle here and loves puppy rides in the sports car. He did manage to lock me out of the car . . . had to call AAA. He also loves sitting on my lap when at the computer. He is great company for me. Thank you again for all of your good work.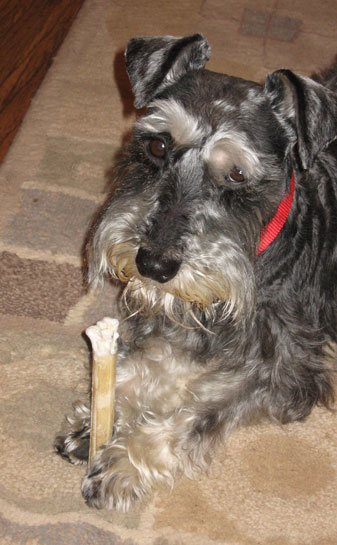 Home, at last, with a chewy bone