Eli's Happy Tail....
Second Chance for Eli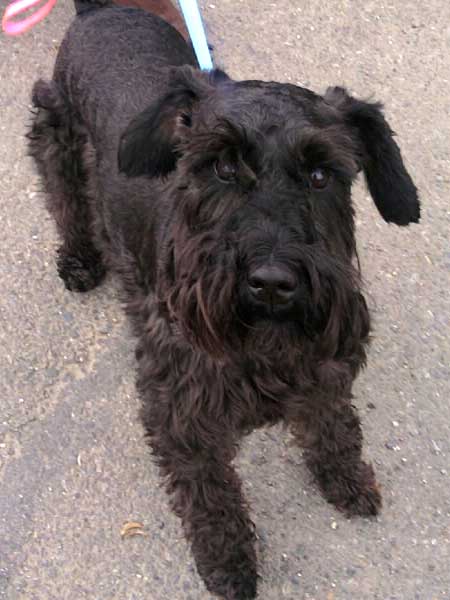 Miniature Schnauzer Rescue was contacted by All Creatures Animal Hospital in Puyallup, WA in May 2010. "Eli" had been brought in by an elderly couple to be euthanized. They told the staff that Eli was more than they could handle . . . they said he was chewing, growling, etc. They also said they had tried "drugs" to mellow him, and had taken him to dog behavior classes. And now they wanted him euthanized . . . Eli is a beautiful, coal black, 18 month old Schnauzer puppy. One of the rescue volunteers went to the hospital to assess Eli . . . and brought him home.
Nancy B., Eli's foster Mom, continues his story. "Eli had been at the Vet Hospital for several days and was showing signs of stress. He had formed a bond with the Vet Tech and really didn't like being left in the room with my daughter, Jessica, and myself. He was nervous and tried to back himself into a corner. We sat down on the floor to be with him and talked with Eli. He was a bit big for a miniature schnauzer, but he had beautiful jet black, wavy, shiny hair and big brown eyes. Oh, he was a beauty!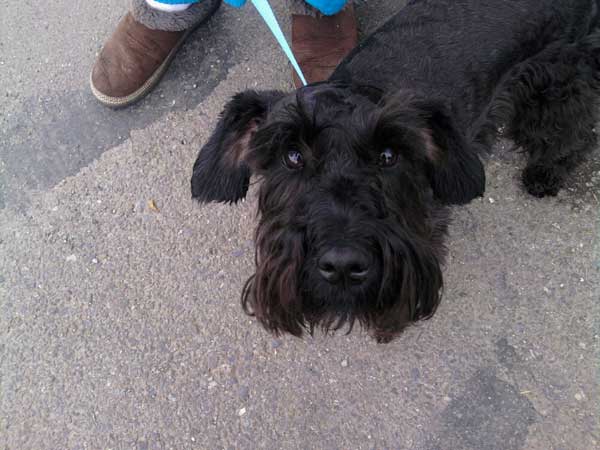 Eli's big brown eyes
Even with treats, Eli was shut down and didn't want to visit with us. He growled and shied back; I gently shortened the leash so he would come closer. Jessica and I continued to talk and avoided looking at him. Within a few minutes, the Vet Tech came back in and we talked with her. She left, and the Vet came in and we talked with him. Eli was with us the whole time, and Jessica and I asked very little of him. The Vet gave us more information regarding how they had handled him, and his observations of the owners. We decided we really needed to give Eli a chance . . . so out the door with Eli we went.
I took Eli to our home and kept him leashed to me for several hours, and then crated him for some time out. Eli was quiet and not very energetic. The next morning I did my usual doggie routine; let them out of their crates to go potty, then breakfast in crates, then out for potty and in to hang out until dinner feeding time. Eli stayed close to me. Watching with his big brown eyes, moving with me. If I went to the bathroom, Eli went right with me, touching my leg as he moved with me. Eli was a cling on! He loved being with you. As time progressed he relaxed more; this took several days.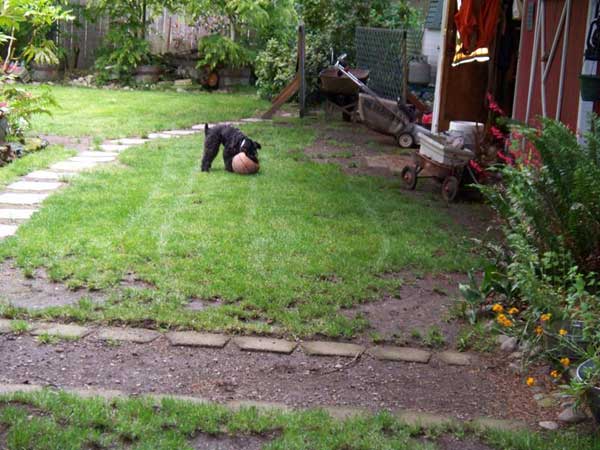 Eli at play in the yard
Eli started to become a typical miniature schnauzer. He wanted attention and to be with you. When I left he would not whine; it was more of a high pitched cry. When I returned he would cry for joy. When someone came to the door, he would do his high pitched whine. Oh that sound pierced my ears but boy was Eli happy! Everyday Eli relaxed more and more. Then one evening he cried while looking at me. I let him out. No . . . he didn't want out. I thought if you're trying for more food, you're not going to get it. Then it dawned on me - "Let's try a ball." That was it . . . Eli wanted to play, so I tossed the ball a few times. Oh, did he love that. After about 5-10 times chasing this ball in my house on hardwood floors, Eli was ready to settle for the evening. This became our routine. My other rescues and miniature schnauzers didn't want to play at 10:00 pm, but Eli did!
Eli discovered a big ball in our back yard and loved to have us throw or kick it for him to chase. He would bring it back, shaking his head with the ball in his mouth. I loved to watch this beautiful Eli move, his gait was perfect, and I found joy in just watching him move. I knew he was becoming too close to my heart . . . Eli was ready to move on. Eli was your typical "teen" miniature schnauzer. High energy, loving, and beautiful. Eli never took drugs for his behavior while in my home; he is a sensitive boy who reflected the owner's feelings. He gave of himself and just wanted to please you.
Eli was placed in Patty's home. I tried to think of reasons not to place Eli, but had no good reason except that I had a strong attachment to him. Eli is now called "Levi", and is giving love and joy to his new owners."
"And that is why I do rescue . . . it's the Eli's out there!!"
Nancy B.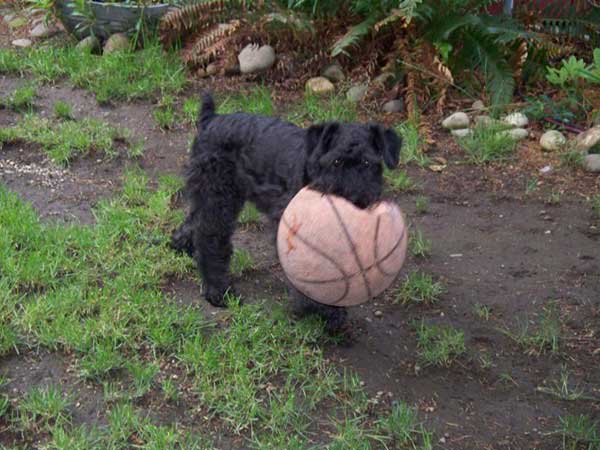 Eli grabs the ball . . .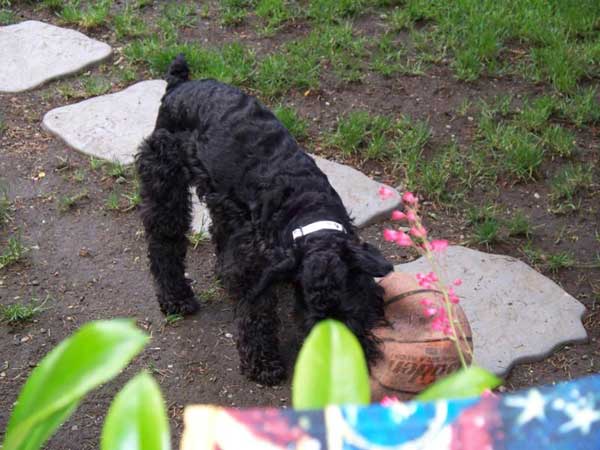 . . . and squeezes it with gusto!