Fritz's Happy Tail....
The Wonderful Little Character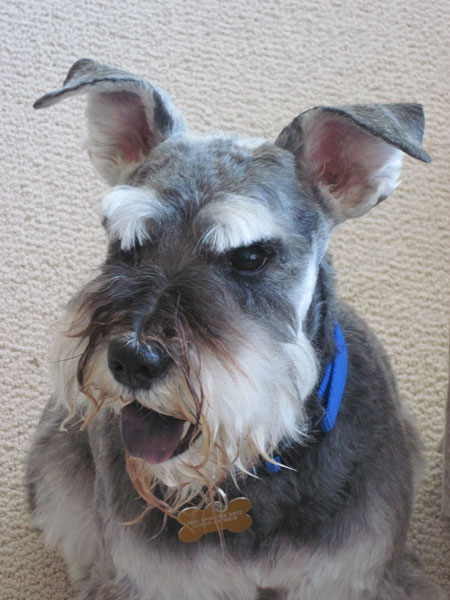 Fritz's journey has taken some interesting twists. Some of these little ones really do live several different lives - and they are adaptable enough to meet the needs of each of their owners. Seven year old Fritz was released to Miniature Schnauzer Rescue at the beginning of January, 2013. His owner wrote a long letter telling us about Fritz, saying "We got Fritz about two years ago from Willamette Humane Society in Salem. My wife was ill and I thought she would like a companion.
He was a wonderful "pal" for her . . . he never left her side. I recently lost my wife, and am moving to a senior facility . . . Fritz can't go with me. But I want you to know that about two years ago, my wife was in her bedroom, and I was in another room watching a game on TV. I heard this extremely loud, unusual type of barking . . . a type of bark I had never heard before.
I went to my wife's room and she was in extreme distress, having trouble breathing, walking - she was incoherent and in much pain. I called the Paramedics and she was taken to the emergency room where she received life saving treatment. I truly believe Fritz saved her life by alerting me that something was wrong." He ended the letter by saying "I only hope that Fritz's new owners will have as much fun as we had with him."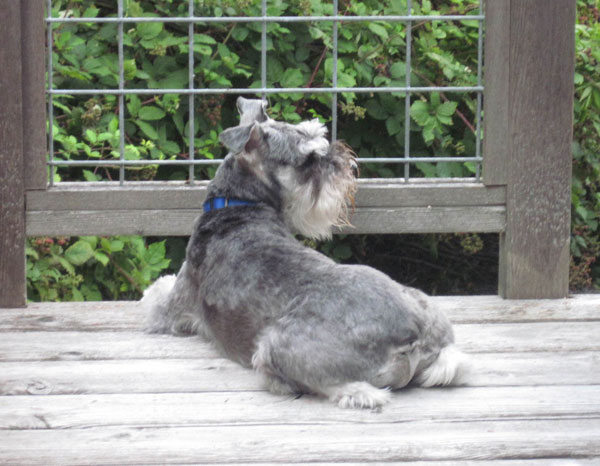 Fritz, Lord of the Deck!
Fritz was welcomed into his new home at the end of January, 2013. And it sounds like, once again, he has adjusted to new owners and a new lifestyle. Our first message from his owners said "We would like to bring you up-to-date on Fritzi. It took him about 1 day to make himself at home. It's taking him a little longer to train us but he's making progress! He has squirrels on the back deck to entertain him, a cute little girl poodle next door, laps to sit on that are connected to hands that pet him, and four (!) beds to choose from when he's tired -- don't ask.
We are SO thrilled to have this wonderful little character in our lives, and I'm so grateful for Schnauzer Rescue's efforts to make this possible. You all are the best."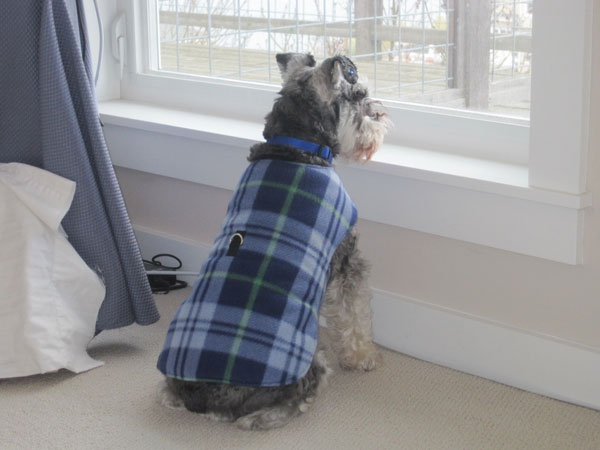 Fritz, Squirrel Patrol
We received the following updates recently:
"Greetings from beautiful Whidbey Island. It has been just about six months since we picked up Fritz (1/29/13) from his foster home in Lacey. We absolutely enjoy having him around. He celebrated his eighth birthday here with us in March and has become a part of the family. Fritz does have some unusual sounds; a very loud, piercing, shrill shriek and a sometimes audible yawn that we continue to chuckle at. I tried to get a photo of his two color tongue with the pink rear and very dark front but was unsuccessful. But those are the things that make him special to us . . . Fritz's travels are over."
Charlie and Linda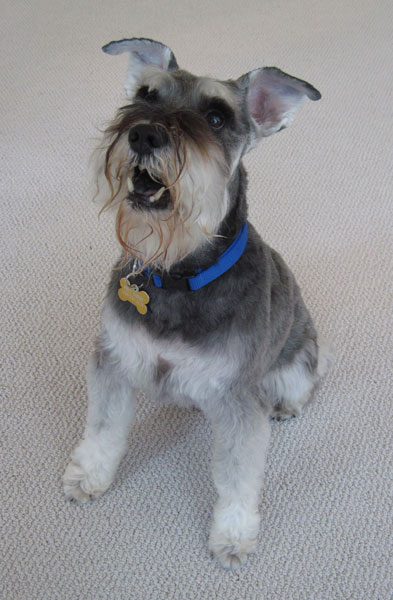 Fritz sitting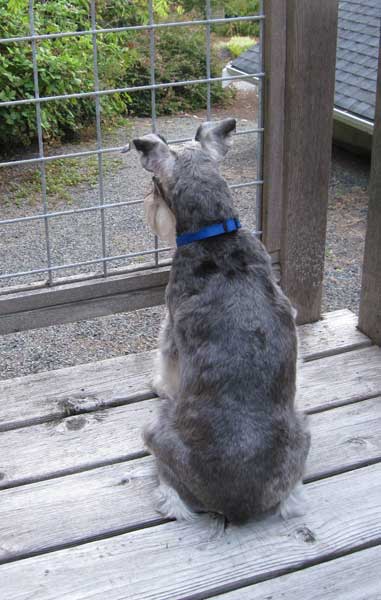 Fritz, the Sentry