Gus's Happy Tail....
A Family for Gus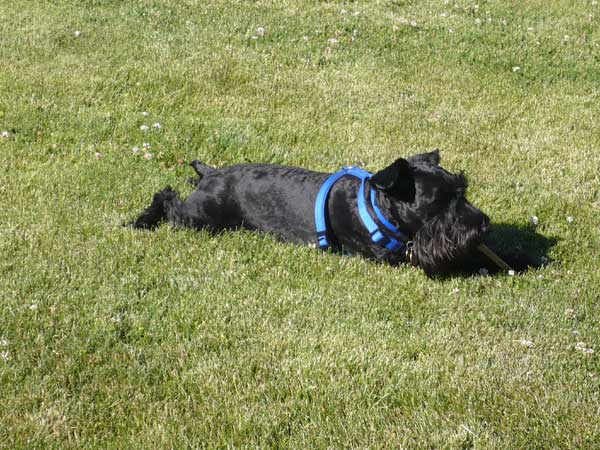 Miniature Schnauzer Rescue was contacted by the shelter in Olympia WA to see if we could help with a little 8-9 month old, coal black Schnauzer puppy. Known as "Noir", this little one was surrendered by his owners, an elderly couple. They told the staff that Noir was more than they could handle - he was shaggy and matted, and they couldn't take care of him anymore.
Schnauzer puppies are intelligent, energetic, happy little free spirits - like all puppies, they run, they play, and they certainly get into mischief, lots of mischief.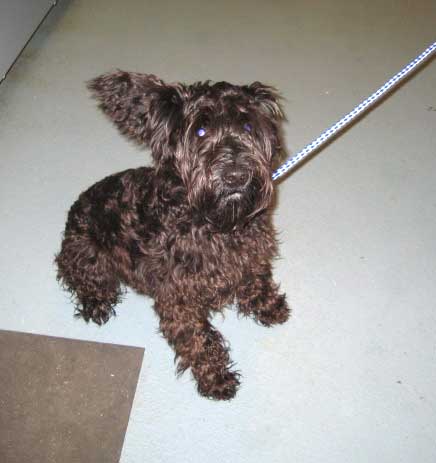 Noir [now Gus] at the shelter
To help them become well behaved members of the family takes patience, skill, and a commitment to teach in a gentle, consistent, loving way. The goal certainly is to end up with a well socialized, joyful companion . . . who has good house manners. Schnauzer puppies are not for the faint of heart - they are for people who love the breed, understand their personalities and have the time and energy to care for them.
Noir stayed with his foster family for a few weeks - enough time to have him vet checked and neutered. As soon as Noir had healed, he was taken in to be groomed . . . and turned into a REALLY handsome little puppy. Noir loves to be the center of attention, but he is not alpha . . . just a happy, high spirited little puppy. He stumbles over his big feet - and he loves to wrestle.
The happy little puppy found a family - or they found him!! And that is exactly what this little one needed - a real family. Noir - now called "Gus" loves people . . . big people, little people, all people. He moved to central Washington, and lives on five acres with lots of room to run . . . and run!!
His new family continues his story: "Gus is doing quite well as he transitions to our home. We have done some 'socialization' with our neighbor's Lab and Beagle in the 'Gus Pen'. He is adapting and having fun once he figures out that they are not a threat to 'his property'. He is now starting to take ownership of the house and grounds, which is typical of Schnauzers. It took about a week for the ownership idea to sink in, so now he alerts us to any activity.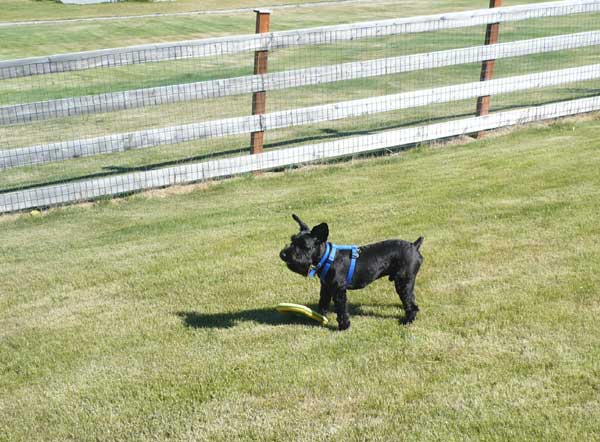 Gus inspects his territory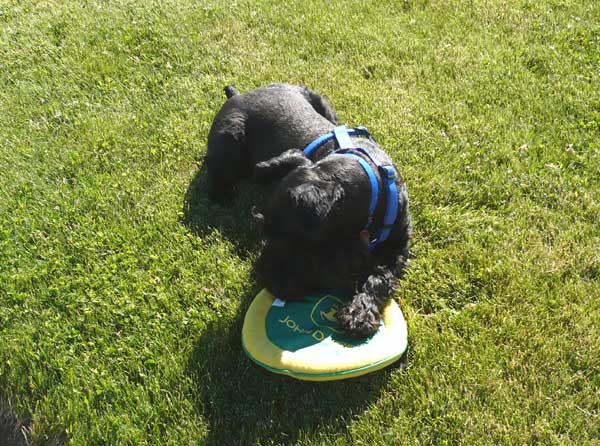 Gus loves his toys!
We have had good friends and neighbors over to meet Gus and after the usual . . . happy . . . happy . . . happy, he settles right down and is much calmer. We have appointments with 'Chelan Dog' for training, starting in early August.
Just to be sure, Gus has a great personality, loves to be a lap dog and is very alert and mindful. He is retrieving well, responds to his new name and is trying very hard to understand what we are asking.
Best to all of you . . . Gus is a great dog!!" John & Marti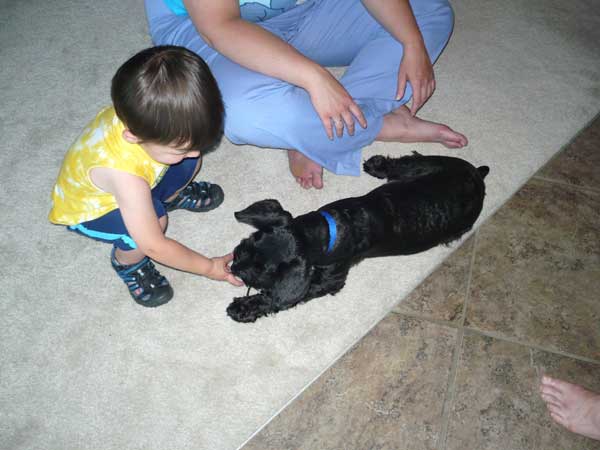 Gus with grandson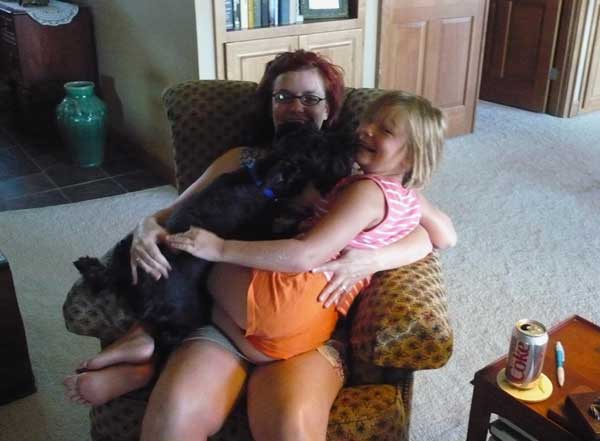 Gus and family