KC's Happy Tail....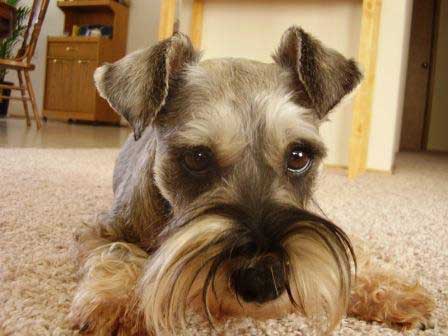 Note from MSR (the Rescue): Recognize this glamour girl?? KC/Greta came to us in late spring / early summer 2005 as a stray. Matted, fat and with horrible skin, we believed she was probably well loved by somebody until being separated from them. We called her Greta and though there were "found" posters and ads, no response followed so MSR took her in. A trip to the vet, treatment for her skin, a strict diet and a loving family and poof . . . KC become our cover girl! [She's in the masthead on every page.]
KC's Happy Update!! (May 2015)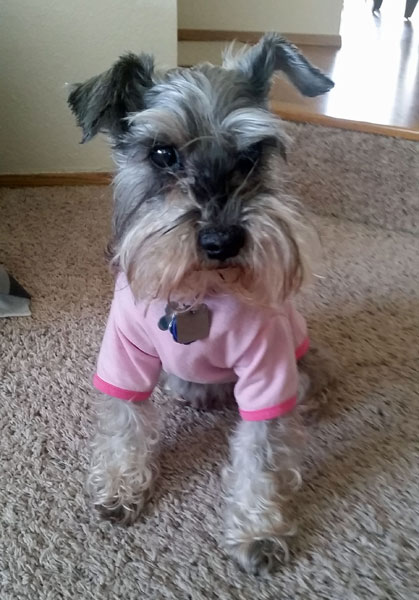 Hello,
This is Chris Peaslee. We adopted KC in June of 2005, formerly known as Greta. I just wanted to send an updated picture of our little princess 10 years later. Although she has some years behind her, she is still a little trooper and we love having her in our family.
Thanks and enjoy.
Chris
---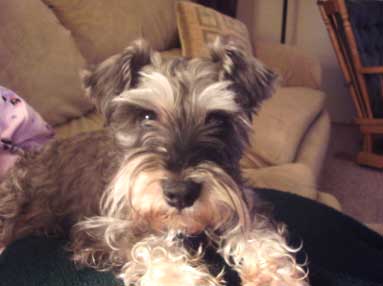 Hello. My name is KC. I am a 2-and-a-half year-old Miniature Schnauzer. My mom and dad were looking for a young female Miniature Schnauzer to join a family with three kids and two adult cats. Jackpot! My foster mom contacted my new family and told them they had a perfect dog. We spent some time together playing, cuddling and even took a nice walk around the neighborhood to get acquainted. We all agreed that this was a perfect fit for everyone.
---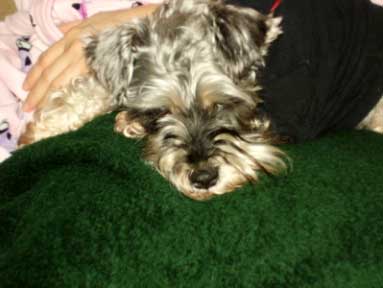 My mom calls me pretty, sweet and very cute. Who can argue with her? After a few days of adjusting to my new home, I have become a special member of this family. I even get to sleep on mom and dad's bed...every night!
---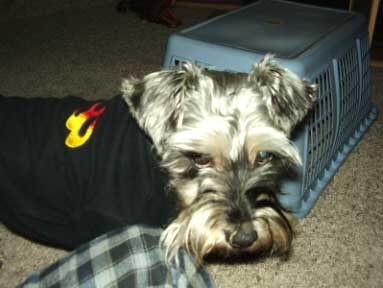 I even know how to flirt with dad...he cannot resist picking me up to give me hugs and kisses when I give him that special look. I have heard that I am one hot chick...that's why my sweatshirt and my collar have flames on them. Although I love to eat...my family knows that my dog food is much better for me than table scraps or that stuff that people eat. It has been very important in maintaining my girlish figure of 14 lbs; the vet said that 21 lbs was too heavy for a princess like me.
---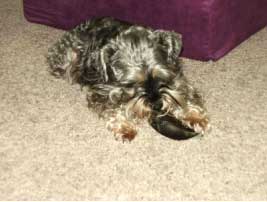 So, there you have it. My mom and dad are always saying how lucky they are to have me and wonder how they ever made it as a family without me. I wonder too...
Thanks for everything. Love,
KC

Update on KC! June 2012
I thought I would share an update on KC (formerly known as Greta) with you. She is doing really good. Still has that same, sweet little face, loves people and is such a good girl. Honestly, I could not imagine a better dog. When we adopted her, the vet said she could be anywhere between 2 and 5 years old – still hard to say, but that means she would be somewhere between 9-12 years old. She doesn't think so, so we just don't tell her.
Cooper, KC's brother, is enjoying some sunshine on the deck – he is going to be 4 this fall. He just finished up his first round of obedience class and did pretty good. We try to work with him to help him improve, but he has his own agenda at times. Overall, he has been a good boy and we love having both KC and Cooper as part of our family.
Hope you are doing well and still enjoying the world of Schnauzers.
Chris and Kim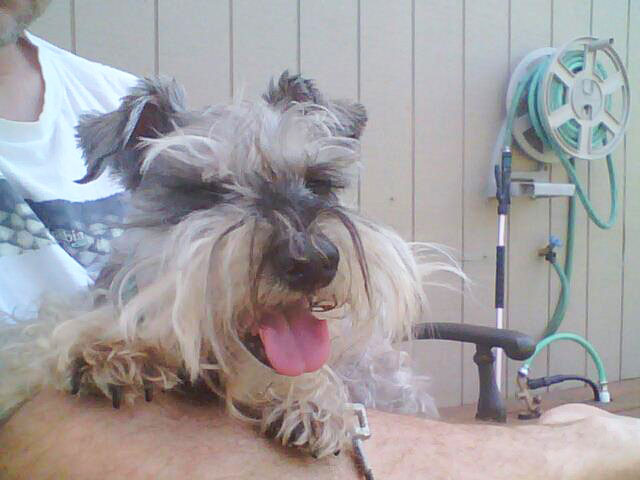 KC - a happy girl!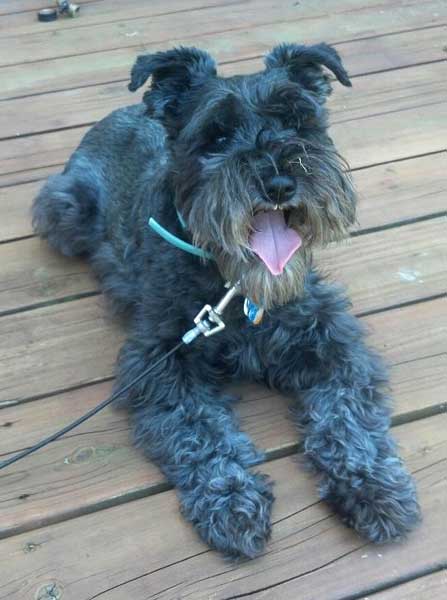 Cooper, enjoying the sunshine on the deck