Miles's Happy Tail....
He Will Thrive - in spite of a Bad Start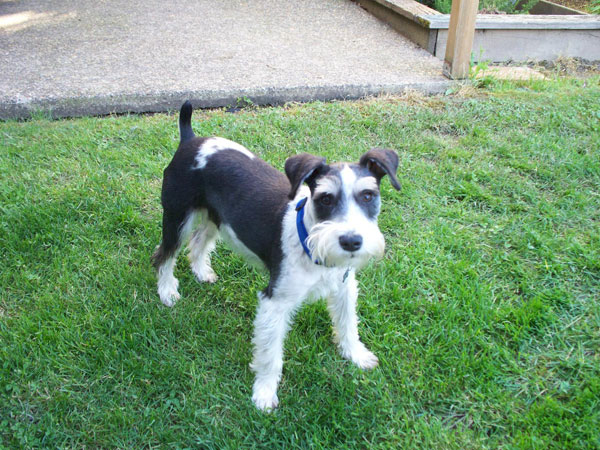 Miniature Schnauzer Rescue was contacted in January 2012 by a representative of Scottie rescue in the Tacoma area. He had rescued 3 Scotties from a lady who also had a Miniature Schnauzer and 3 Havanese. Lady said someone just gave the Schnauzer to her, and he had been in 3 different homes in his 6 short months. Story screamed puppy mill - especially once his behaviors were observed.
Miles was taken home by Nancy, with an ear infection – covered in feces and other stuff. Mill dogs have been trapped in small spaces and denied human contact, so they lack social skills and are often afraid of sights, sounds, and experiences. Miles would not leave his crate – he chewed through a cloth leash, so a chain leash was attached to him. The leash was left on so Nancy and her husband could catch him, put him in and take him out of his crate. The wild child was extremely afraid of people, and could not bear to be handled.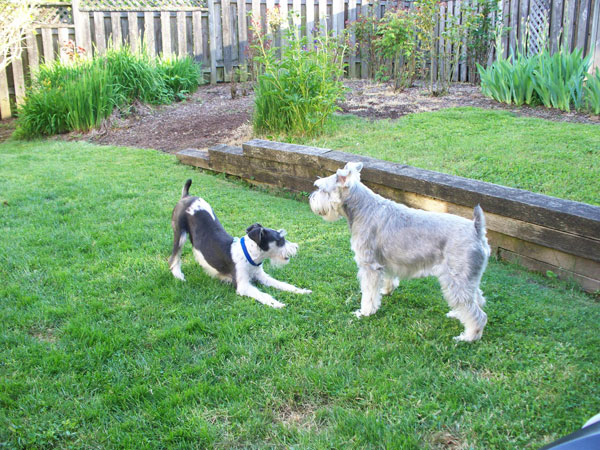 The Perfect Playbow!
Nancy fostered, loved, trained, and nurtured Miles for 4 months. She kept him on leash and took him with her to the computer room, bathroom, shower . . . where she went, he went, struggling at first but slowly settling down. Miles seemed to like Nancy's other dogs, and wanted to be with them. But they paid no attention to him at first. By the end of February, Miles started to come around. Nancy said he is smart and had caught on to the routine of going to bed in the kennel with one of her dogs, Fritz.
Miles had his first grooming appointment and managed to get through that without eating the groomer. Huge improvement – he looked so handsome. He continued to move away from people rather than toward them. But he slowly allowed some petting, and his tendency to lunge at people passing by him decreased. Small successes! Nancy said "dogs are amazing creatures, with the ability to heal emotionally and learn to trust and forgive faster than any human."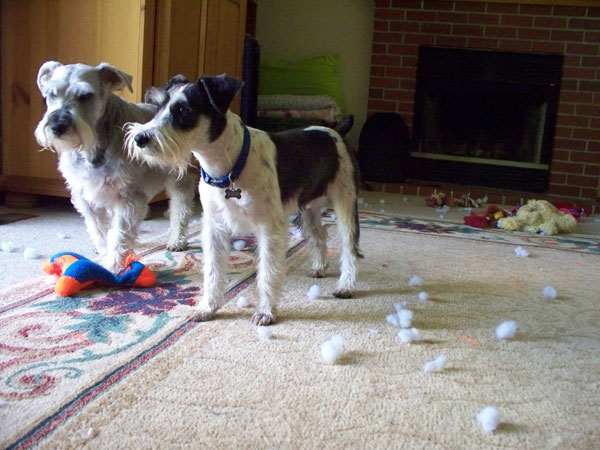 Miles and Playdoh
By the end of April, Miles had progressed to the point where adoption might be possible . . . with the right people. And along came Larry & Terri, who had experienced similar circumstances with their Schnauzer, Playdoh. Terri continues Miles story: "He is having a wonderful time. He is sleeping in a pillow bed next to Playdoh. He didn't want his crate. I think he liked the security of it, but I also think it was part of the problem too. He had been in a crate for his whole life except when Nancy had him, and I think this is enabling him to come out of his shell.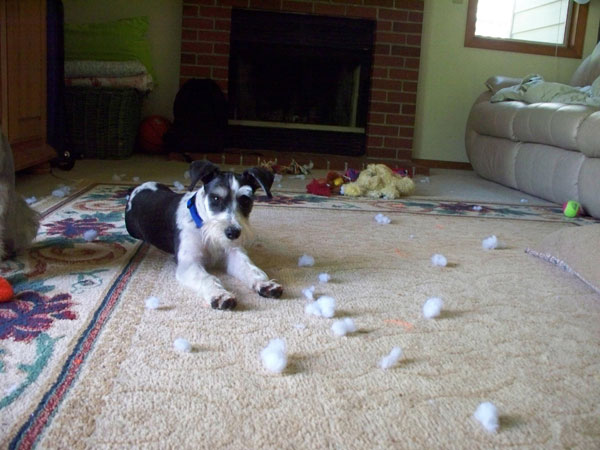 Mischief
Anyway he's been a good boy. He is still very shy with us. He so badly wants to be loved and will let us pet his face and neck but that's it. He needs more time to trust us.
He loves the mornings when he wakes up. He comes to my side of the bed and puts his front paws up on the bed and looks at me wanting me to get up. So cute! I put my hand out and he playfully nudges it. He and Playdoh are such good buddies. They are inseparable. He does the most adorable puppy things. We are loving him."
Thank you
Teri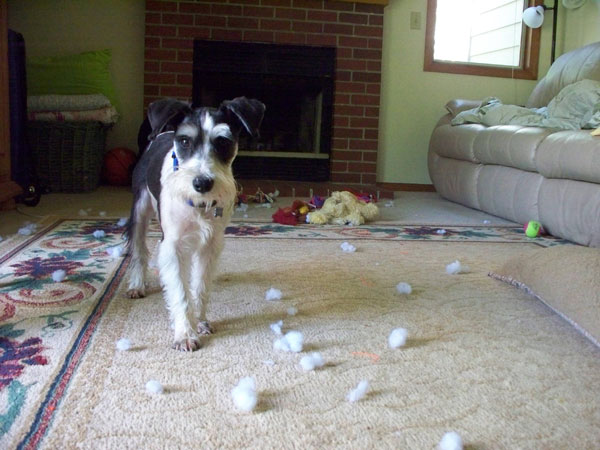 Most Handsome Boy