Misty's Happy Tail....
She Found Her Forever Home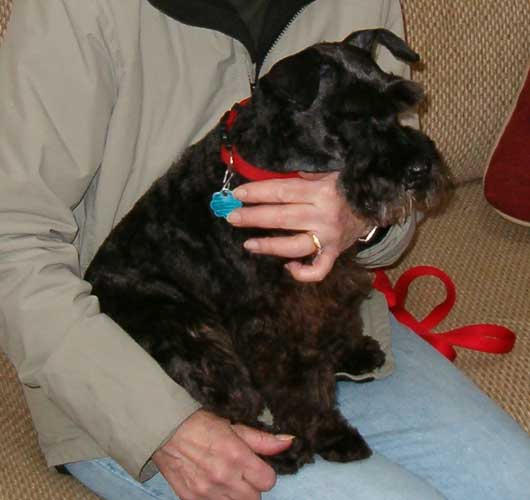 Note from MSR (the Rescue): Misty was turned over to MSR by a shelter/foster who works with Tillamook County Animal Control. The story is Misty's first owner allowed her to be abused by older boys in the family. To pick her up by the hair on her sides and I don't know what else. Supposedly she doesn't like cowboy boots and will go after them. You also need to be careful how you pick her up or she will snap.
Misty's second mom who rescued her from the first family had major medical problems and felt she would not be able to care for her and passed her to the shelter in Tillamook. A foster person for Tillamook took pity on Misty and took her home. BUT, while there one of the gal's Bull Dogs took a dislike to Misty and attacked her. Leaving an open wound on the top on her head which required surgery by our vet and 7 stitches.
Well, Misty has a wonderful, forever home now. At first she took to Marilyn but not her husband. It has taken quite awhile for Misty to trust him but she is getting better at it day by day.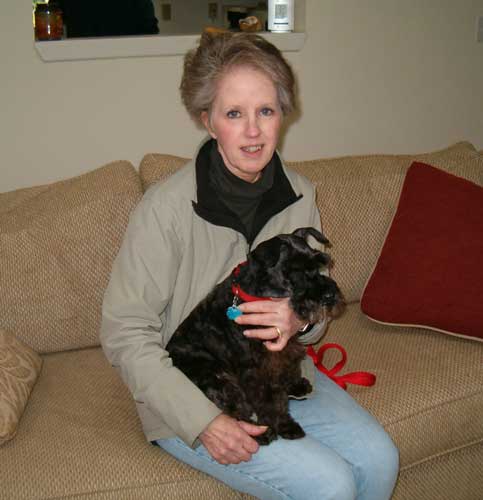 Misty and new 'Mom' Marilyn
Misty has doggie day care with Marilyn's Mother while she is at work. She knows when it's time for me to pick her up & gives me a chewing out if she thinks I'm late. She is a very sweet dog and is doing better with people she meets for the first time.
When I brought granddaugher back to house Saturday afternoon, I could see that Misty definitely has some trust issues with children - she really barked at Allison. Fortunately I had already explained Misty's situation and that Allison will have to let Misty come to her when she's ready. After the initial meeting, Misty seemed to ignore her and went back to being her usual self. Allison is a very thoughtful child and loves dogs - she felt bad that Misty had been abused and am sure in time Misty will learn that this child won't hurt her.
Misty loves to go for walks - doesn't want to piddle or poop in her own yard, so her "potty times" involve a walk through the neighborhood. Went for a long walk Sunday morning and she made sure she led the way and must have marked her territory 15 times.