Oliver's Happy Tail....
"The Little Broken One"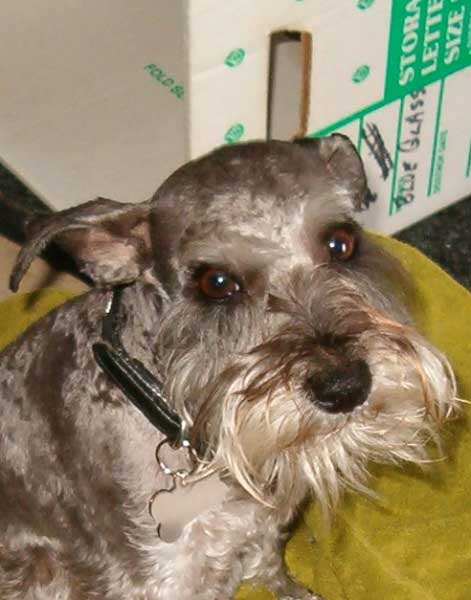 Miniature Schnauzer Rescue was contacted by the ADA Veterinary Hospital in Boise, Idaho in July of 2011. They had a little 1-and-a-half year-old Miniature Schnauzer who needed a foster home during his recovery from surgery. Oliver had been found by his original owners at 1 a.m. in their backyard; he had been hit by a car. He was first taken to the Idaho Veterinary Clinic where he was examined, and then the owners were told what the surgery costs would be to help him. They could not afford to cover the costs, and so Oliver was surrendered to the clinic. The vet stabilized him, and then he was transferred to the ADA Veterinary Hospital for surgery. Oliver had suffered a broken femur, broken pelvis, and ruptured urinary bladder. The ruptured bladder was not noticed until he had the femur repaired with a pin. He then returned for a second surgery for the bladder repair. He also was neutered during one of the surgeries. Lots of hard stuff for a little boy who is approximately 12" at the shoulder, and weighed 8 or 9 pounds at the time of his surgeries.
Oliver was transported from Boise to Portland by close friends of his "soon to be" foster parents over the 4th of July. His foster parents took care of him during his recovery, including taking him on vacation with them. They said Oliver "ran with the pack" in his own way - usually on his two front feet, hiney in the air. While camping Oliver stole the hearts of all but, in particular, Sandi and Steve, and they made a commitment to adopt him in September when his pin came out. Oliver was scheduled for further x-rays, and ultimately had the pin removed from his femur. The weekend after Labor Day they all camped at Netarts on the coast and Oliver was formally adopted to his furever home with Sandi and Steve.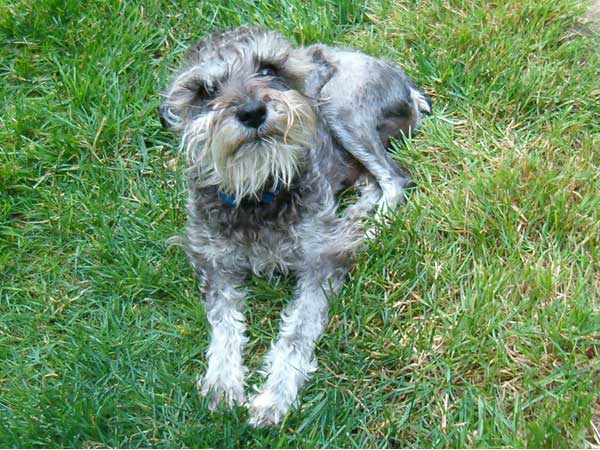 After surgery - before grooming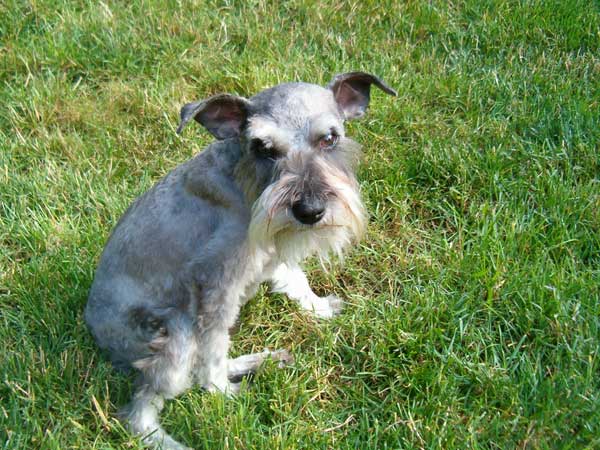 After grooming, a handsome little boy
And from his new home comes the update:
"Hi Guys, Oliver is wonderful, he does something new each day to amaze me. He has brought so much joy to my life. He goes to work with Steve on Mondays and work with me on Tuesday, Wednesday, and Thursday. And on Friday, my friends in the condos beg for him - he has become a social butterfly, very comfortable with most people. His leg gets better each day. He and I walk over to the park twice a day for a 30 minute walk and play time. He now jumps up on the couch, the chair, and off my tall bed. He is so cute - everyone loves him. He is a good eater, sleeper, just a good all around doggie. He just sorta goes with the flow."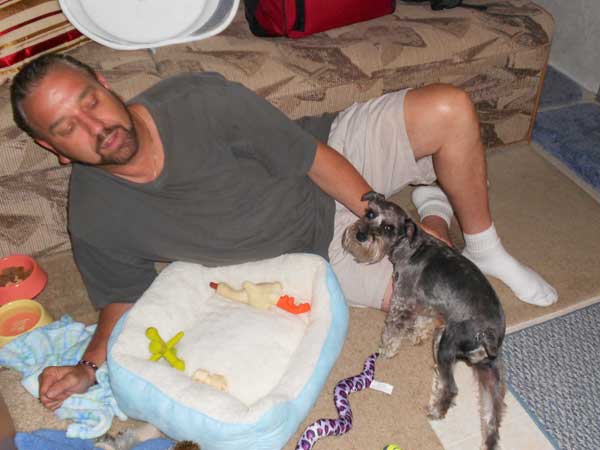 A few days after the pin was removed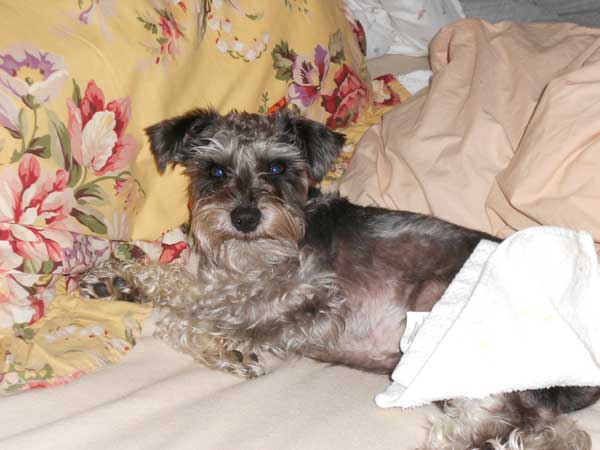 Oliver relaxing on Momma's pillow
And a second update:
I am so glad we have the little broken one in our lives forever. We love him so much. We started our first service dog training class today. He will be my service dog. We are still learning that we need to be the alpha parents...Not him...LOL I am sending you pictures of when we first adopted our little Oliver, and the past few months from Sept. 7th.
Thank you for writing this story. It really is a big success story. I hope it will also touch others.
Best Regards, Sandi and Steve, and lil Oliver
October 2011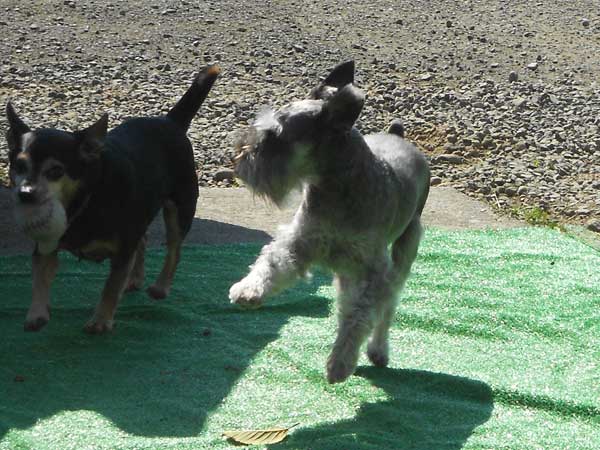 Oliver playing with friend Gizmo