Rickie's Happy Tail....
Love Conquers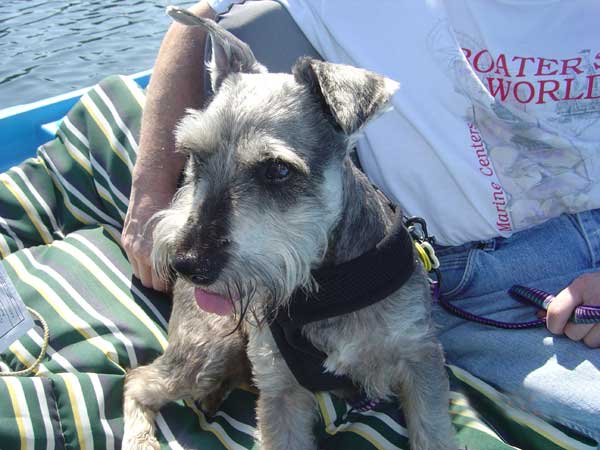 We wish you could talk to us, little one . . . and we wish we could talk with you. You could tell us why you are afraid of feet - of people and feet running towards you. We could tell you that you don't have to be afraid . . . no one will hurt you again.
Rickie, formerly Napoleon, was turned in to the Willamette Humane Society as a stray in June 2009. He was dirty and mangy looking, he did not bark, he was submissive, subdued, and his age was estimated at 18 months to two years. Rickie was neutered and micro chipped at WHS, and then, after several weeks, was released to Miniature Schnauzer Rescue.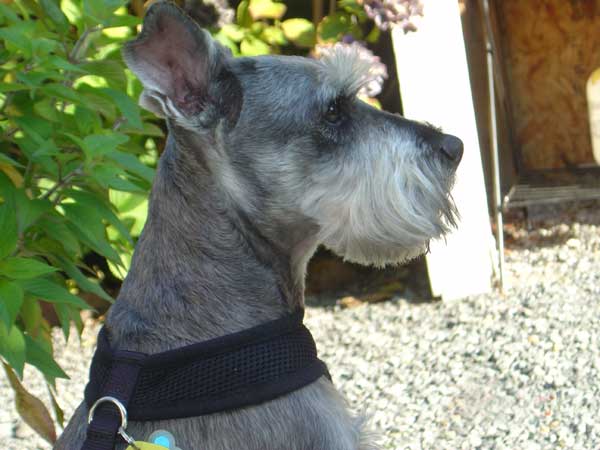 Rickie at home
The first thing his foster mom did was to give him a bath. The water turned brown. The next thing was to cut off some of the many mats all over his body. And then he was given dinner - and within an hour, had thrown it up, along with his water. And again, and again. Rickie was taken to the vet for an evaluation . . . something was wrong. The news the next day was that Rickie had a kidney infection - and it was serious. He was given a 50% chance of surviving and was kept at the clinic for the weekend in order to keep the antibiotics flowing and to monitor his health. By the following Monday, he was doing well, and the clinic released him. And finally the little boy was personality plus. He was happy, he loved to eat, and he loved to lick faces. The follow up appointment a week later showed he was in excellent health, and a kidney-sensitive diet was recommended.
Rickie was featured at the 2009 Schnauzer Walk, played with the dogs, and was adopted by two ladies who had lost two Miniature Schnauzers earlier in the year. They live on a lake in Washington; Rickie can play in the water, go fishing, and have companionship during the day. His new life begins.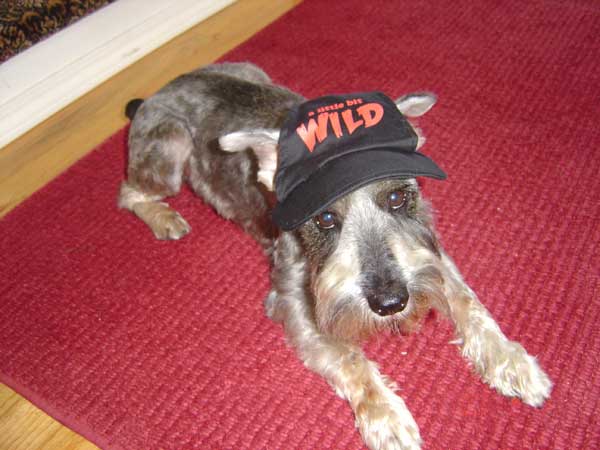 Rickie goes wild!
Rickie's new Mama's continue his story: "We thought you all might enjoy some recent pictures of Rickie - these from learning how to paddle boat on our lake. He was a little afraid at first, but soon got the hang of it and settled right in. Rickie is doing very, very well - and appears to be happy and is certainly healthy. We have added his baby sister, Lucie, who wormed her way into his heart and they spend time wrestling and snoozing - and walking every park in town.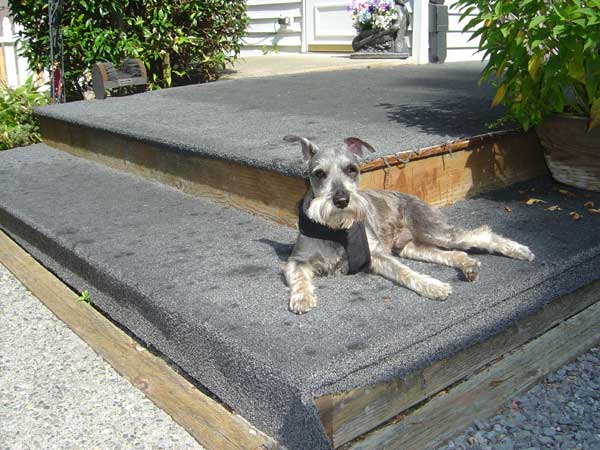 Rickie guards the front door and gets some sun
"A month or so after we got Rickie, we began to see some problem behaviors. He has issues with being handled, protects all he believes is his, and he is very edgy about people near him picking up their feet. He hates people and feet running at him. He hates being blocked away from 'his pack' - took him months to come into the laundry or bathrooms with us. In order to help him overcome his fears, we've been working in private sessions with a trainer and Rickie is making great progress. So, a few bumps along the road to family, but he's very loved and well cared for. The pictures of Rickie with toys may be so common for most dogs and owners, but it has been a big breakthrough for us. Rickie is learning to be light-hearted and play with toys and interact with us. Sometimes he even brings them back to us to toss again. He isn't an easy dog but he's our dog!! He is blossoming into a very well behaved little boy, although he didn't start out that way. He is smart and loyal and brave and loving.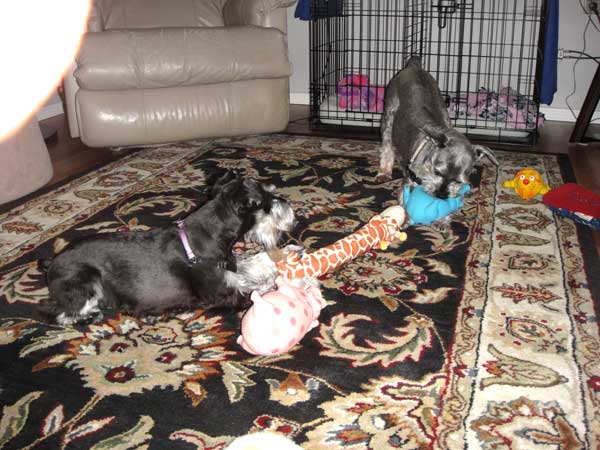 Rickie (with blue toy) plays with his sister, Lucie
"Rickie loves to bask in the sun on the back deck. He loves to track bugs and worms in the grass. He loves to work for treats and he loves it when we tell him how very, very good he is. He loves laying in front of the fireplace on a rainy day, and walking in the park any old day . . . twice a day! He likes hanging out with the great nephews, and watching them play video games! He loves his sister, Lucie, and rolls on his back in wrestling matches so that she can "get the best of him" (we think he just lets her win . . . and has since she was 9 weeks old)! There are so many good things in life that he loves and that he brings to us . . . we all get the dog we need to have . . . and this one is ours!"
Val & Kris
Rickie (in red) with Lucie, dressed to kill!