Riley's Happy Tail....
The "Snowbear" Finds a New Home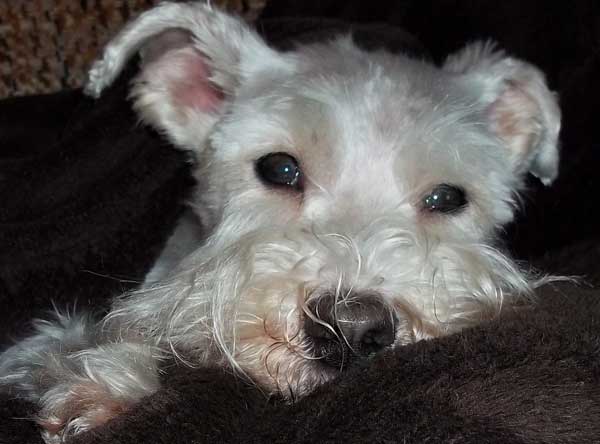 Some of the little ones come into rescue with troubling backgrounds; neglect, abuse, etc. But this was not the case with 5-and-a-half year-old Riley. His owner was recently married, has a baby on the way, a small one bedroom home, and three dogs. She felt that they just could not give all three dogs the attention they needed. With deep regret, and many tears, Riley was released to Miniature Schnauzer Rescue.
Riley's foster mom concluded, after his first few days with her, that "He's an Angel"! She said "Riley is so very well behaved, obedient, housebroken, quiet, command trained, and so very sweet natured. He's a darling that loves to be held and stays by your side. He has a wonderful disposition when meeting adults, children and other dogs. Loves his carrots and green beans too. Most of all, Riley loves car rides and taking many daily walks."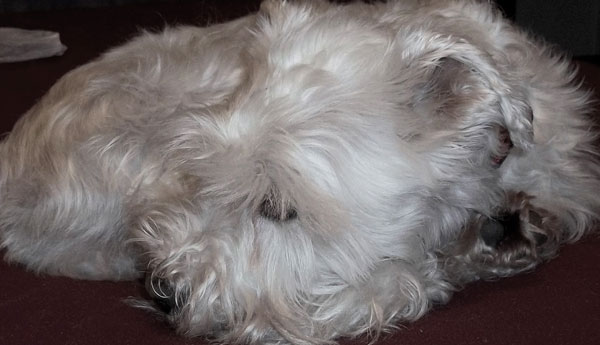 Fluffy White Snowbear Sleeps
This little one did not have to wait long for a new home. A retired couple contacted Miniature Schnauzer Rescue looking for a new friend. They had recently lost their 16 year old Schnauzer, Sasha, to heart failure and were heartbroken. They had adopted Sasha eight years ago from Miniature Schnauzer Rescue. The timing was right . . . Riley could help to fill the void and help them heal, and they could give another rescue a great home. They love to travel . . . which, of course, means Riley will have plenty of opportunities to go for his car rides. And they take several walks each day.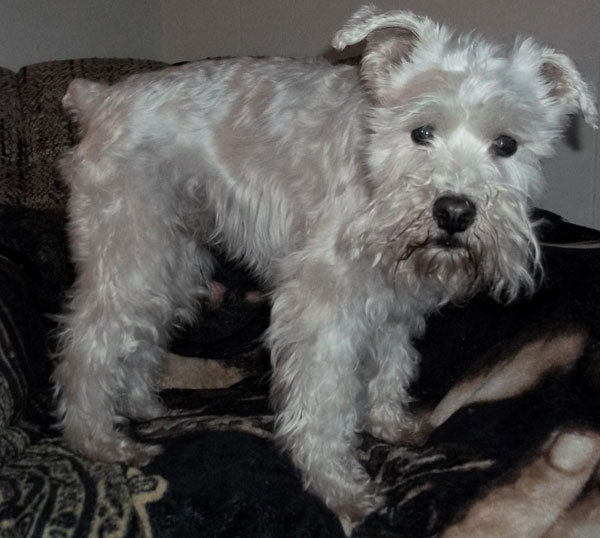 1st Night Away from Home - Scary!
Shirley & Joyce have provided much appreciated updates on the little "Snowbear's" transition to his new home. "Riley made himself right at home, checked out the house and yard, inch by inch, and seemed to like everything." And everything he found included two beds, blankets, his own chair with a blanket, and toys and balls to play with. When Riley has had to briefly stay home alone, he stays in his bed until they return.
Shirley and Riley have bonded very closely. Riley is either on Shirley's lap or at his heels at all times. Although . . . if Joyce happens to disappear out of sight, Riley immediately checks on her as well, until she is back within his view. Joyce says "He's just a little Angel that is really starting to fill that void . . . we love him already!"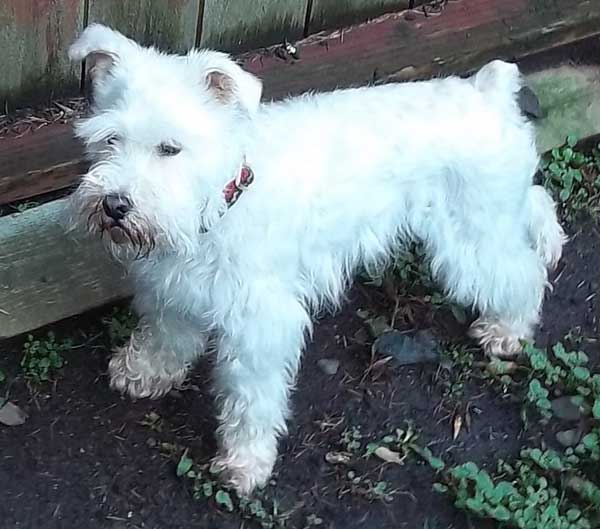 Riley in the back yard of his foster home