Sadie's Happy Tail....
Sadie's Christmas Update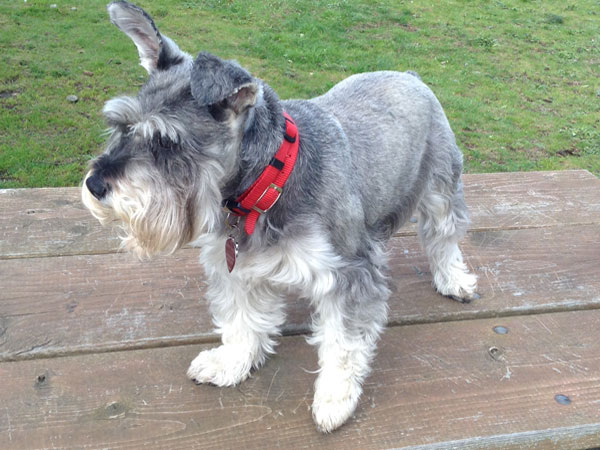 Hi everyone at MSR,
Sadie continues to be a lovely companion for me. I am blessed to have found such a loving, gentle and eternally optimistic being to share my life. The gratitude I feel for your efforts at MSR that brought us together is truly heartfelt.
Watching my female turtle and female kitten interact with Sadie has been hysterical. Cleopatra, the box turtle, hissed at Sadie in response to some sniffing - Sadie ran and hid in the bedroom! Sadie will not step over or step too closely to the turtle. Watching Sadie staring at Cleo as she eats, waiting for the moment the food is not being eaten for quick snack is a crackup. Sadie knows she isn't allowed to do that, but she is so hopeful I'll forget to pick up the turtle dish!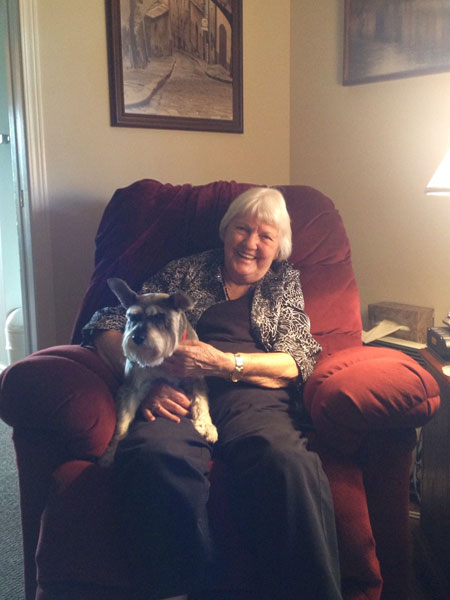 First visit to see Mom-Mom
Che, the kitten, will sometimes not let Sadie go through a doorway by simply not moving. Yes, I do need to protect Sadie on occasion! Kitty loves the long coat - Sadie's like a mobile kitty toy. Kitty also loves to sniff and rub all over Sadie, claiming her "puppy." Sadie reciprocates the sniffing.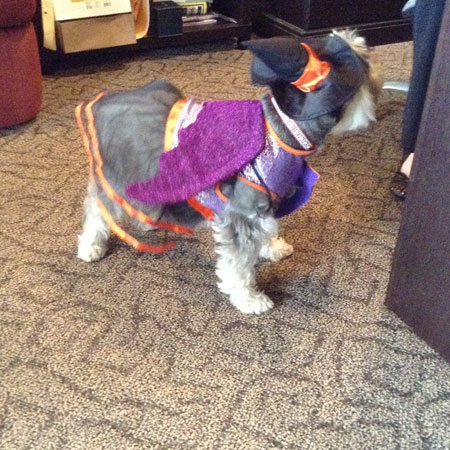 Sadie, The Schnauzer Witch
I have been in touch with Sadie's first "Mom" or "Mom-Mom" since July. So far, Sadie and I have driven down to visit several times, with a Christmas visit just around the corner. In addition to adopting a lovely Schnauzer, I have adopted Sadie's lovely "Mom-Mom". We have such a fun time during our calls and visits. What a gift came into my life in addition to Sadie. "Mom-Mom" is so pleased with the transition Sadie has made into my life and we are certainly united by our love for this little Schnauzer girl.
Perhaps you can tell that Sadie enjoys just being a dog, tolerates special occasion dress up with grace and is much loved.
Thank you for allowing her to come in to my life. Merry Christmas and all the joys of a new year to you!
Nancy White
December 20, 2013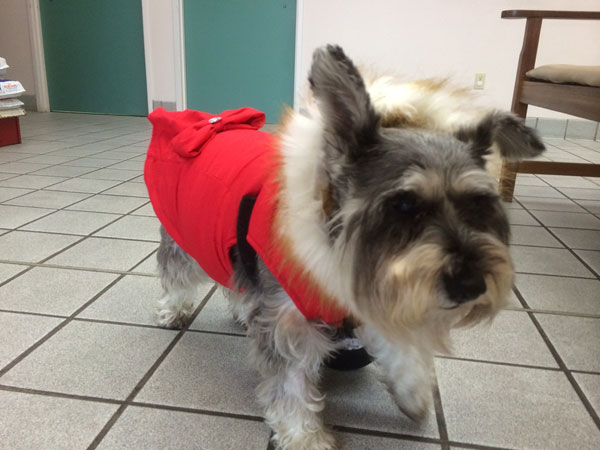 Sadie in her Winter Parka with Fur Ruff
The Story of Sadie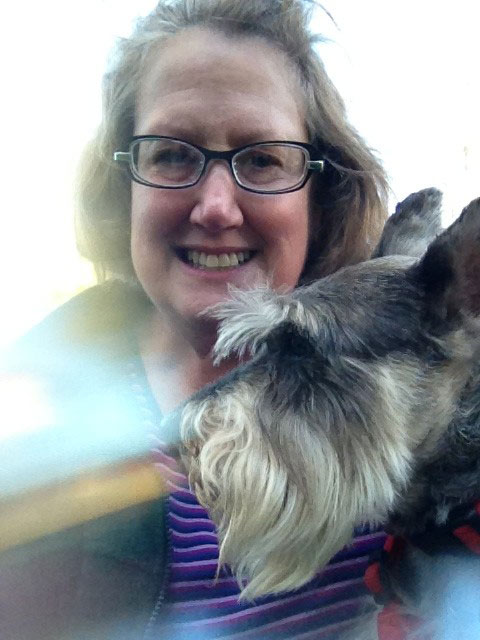 Miniature Schnauzer Rescue got a call from Sadie's temporary caregivers in April 2013. Their mother was no longer able to care for her 11 yr old Schnauzer, Sadie. They had contacted several rescue organizations, but none had foster homes available at the time. MSR did offer to go through our database of applicants, and send Sadie's profile to potential adopters. We did . . . and Nancy White jumped in looking for additional information. Nancy was put in touch with Sadie's caregiver. We quickly heard back from Nancy:
"I have adopted Sadie. Wasn't quite prepared to bring her home today, but what difference would a day make. There was some initial silliness . . . Sadie ran out her caregiver's door as I came inside. Then after visiting and mutually deciding that Sadie would be a good fit for me, we loaded her things into my car. Good thing I drive an SUV! A few goodbyes, then there was suddenly a click sound. Sadie had locked all the car doors from inside!! Thank goodness we all had AAA.
Finally arrived home and unloaded all of her things. After a walk, we took a quick tour, then proceeded right to introductions. Sadie shared some face time with my kitten, which went rather well I think. Then she rested in her crate/safe place while I set up her dishes and got a pet gate up in the kitchen.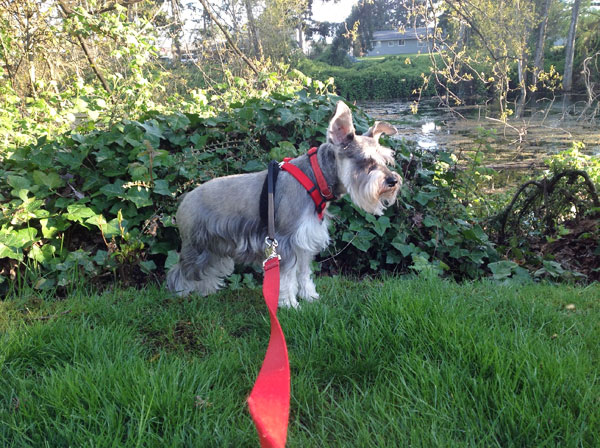 AAhhhh!!-Life-is-Good!!!
Sadie is an absolutely beautiful mini . . . extremely healthy and loves to go places. Good house and walking manners - very well mannered overall, except for the whole running away thing, and eating anything she can find.
Thank you for considering me as a potential adopter for Sadie, and for bringing us together. I feel blessed to have such a lovely mini in my life, and it is all because of everyone's efforts at MSR".
Nancy White
April 18, 2013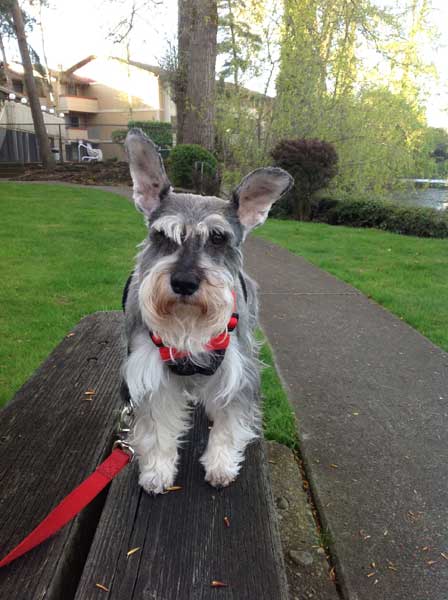 Walks!!!!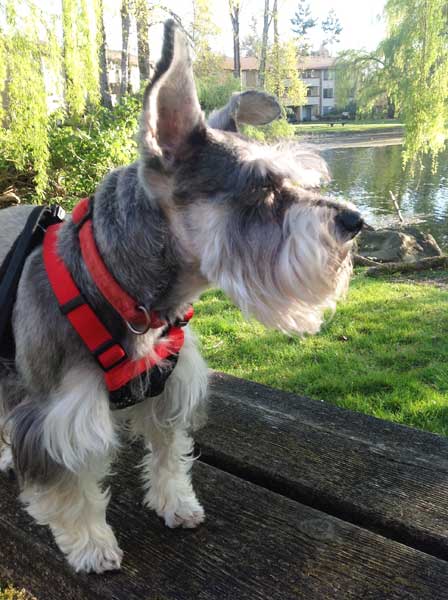 And more walks!!!!