Sammy's Happy Tail....
Revisiting Sammy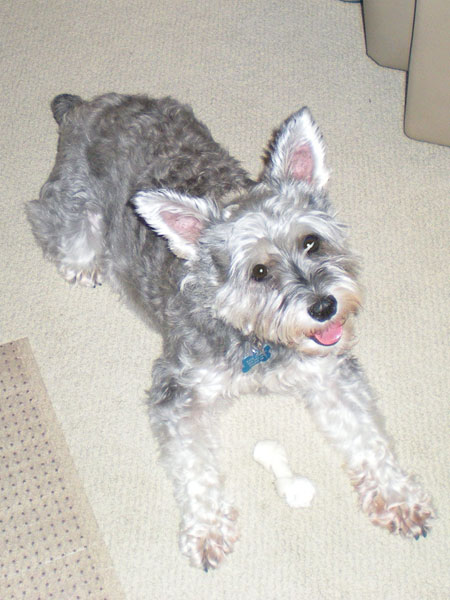 We first met Sammy on August 15, 2010 . . . Eight year old Sammy was looking for a new home. She had been with her family since she was a puppy, but family circumstances had changed. Her owner asked his sister to try and find a rescue who would help Sammy. And his sister contacted Miniature Schnauzer Rescue for help in finding a family who would welcome this registered, well behaved little girl. Recently we were contacted by the sister; she thinks of Sammy often, as does the whole family, including the children. We don't often hear from families who would appreciate an update, especially after three years. Sammy's well being was on their minds.
As it turned out, Sammy found a home very quickly with Lois . . . . a lady very familiar with Schnauzers. She had three Schnauzers over the years and was very familiar with the breed. Her son, Mark, said that Lois had just become a widow when his dad died. He moved Lois to Willamette to help her regain her health. The social worker suggested that she get another dog as a companion to help her through the grieving process. Sammy did become Lois's companion, and they have taken care of each other over the years.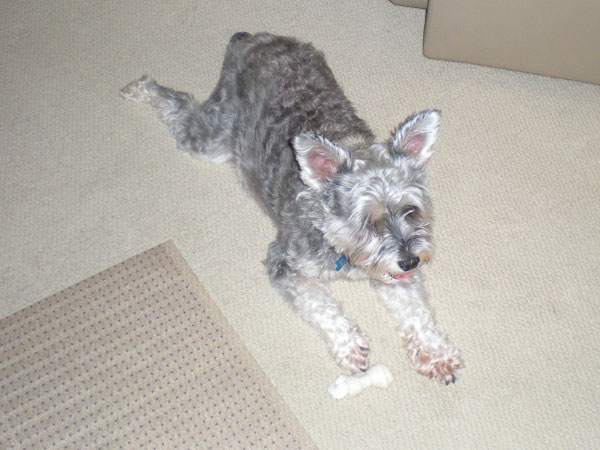 Sammy Loves Her Rawhides
Lois's last Schnauzer's name was Katy – and as time went on, "Sammy" gradually changed to "Katy." Lois has had some health issues over the past couple of years, but Sammy keeps them both walking . . . long walks. And Sammy keeps an eye on Lois . . . barking when someone comes to the door. When Mark comes to visit, he brings Sammy a pig's ear dog treat. And Sammy walks around trying to bark with the treat in her mouth. Mark also cares for Sammy when Lois needs to be hospitalized. He has a fenced yard and Sammy gets to roam free with all the new sniffs. And Mark added "why have a doggy bed when you can sleep in a real bed!!"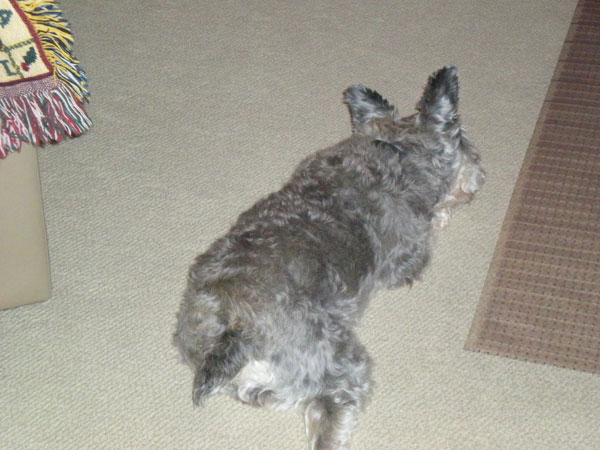 Power nap
Sammy – or Katy – has had a number of people in her life over the years . . . and all have kept her safe and happy – pretty good for a little girl who turned 11 yrs old on July 11, 2013. She is one of the lucky ones!