Winston's Happy Tail....
A Home for the Holidays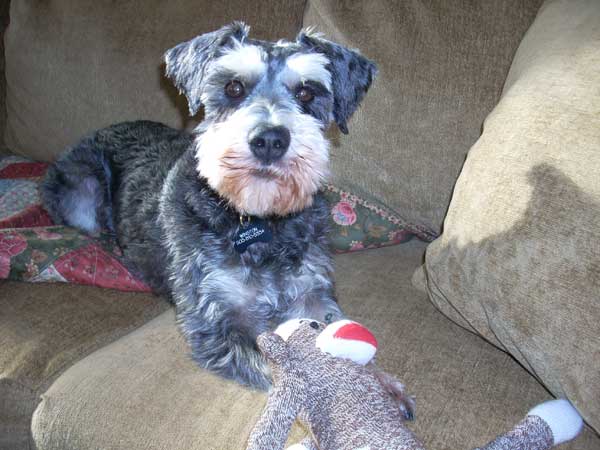 Two year old Winston was released to MSR by owners that were unable to afford caring for him. He was born in March of 2009, and hadn't been to the vet since September of 2009 when he was neutered. Winston was kept outside or in the garage, and his eyes, muzzle, rear end and feet were so badly matted that he did not want to be touched in those areas. He tended to run into furniture, his foster mom's legs, and anything else in his way. This little pup was not accustomed to hugs or much affection, and was clearly a very depressed little soul.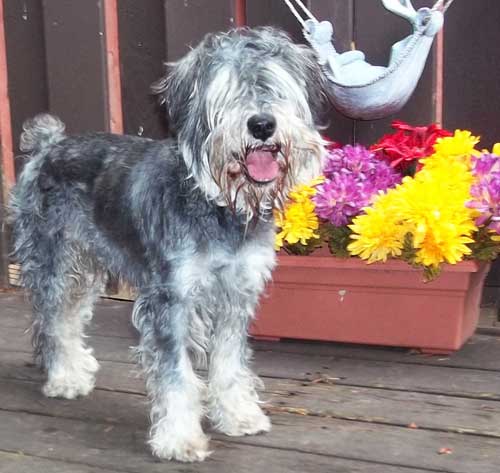 Hairy Little Boy before grooming appointment
Winston's foster mom, Cindy, and foster brother, Cajun, went to work on him. He had a vet exam and was updated on all of his shots. Next he visited the groomers . . . he was terrified of the bath, and very apprehensive when the groomer started to trim his hind area. But with gentle handling, he got through his "clean up", including getting his nails trimmed, without further fuss.
A delightful, happy little boy showed his face . . . Winston turned out to be a very smart and loving puppy. He followed Cindy and Cajun around the house, nosey, playful, and wanting to be a part of everything. Lots and lots of play time with Cajun and a very friendly and happy greeter to strangers, adults and children. Cindy said, "he is so very obedient. He really listens and wants to please you. And he always enjoys praise and a treat."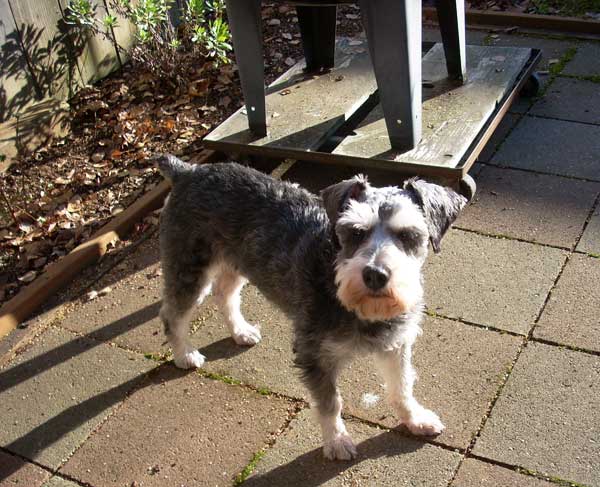 Free to Play in his backyard
Winston was adopted by Debbie, and her son, Nick, on December 17th, just in time for the holidays. Debbie continues "Prince Winston's" story: "Winston loves his back yard . . . he runs again and again around the flower box in the back yard, playing with his ball. We took him to the toy section in Petco, and he pulled a stuffed sock monkey off the shelf. He was scared to death of Santa . . . moving his feet but slipping and not moving - like he was on ice. Had to ask Santa to leave.
Winston loved being the center of attention with all of our company and family over the holidays. Nick was wrapping presents and when he got to the end of the Christmas wrap . . . Winston took the cardboard tube and ran around the house like he was a little Jedi knight. Then he decided that the leftover wrapping paper on the floor needed attention . . . we turned around and sure enough, he had started ripping the paper into tiny strips.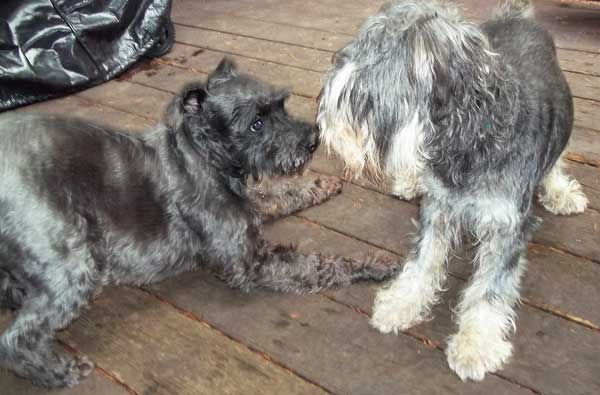 Winston and Cajun: isn't that a perfect play bow?
Winston likes our vacation routine, but we will still have to get him adjusted to our work routine. I plan on leaving him alone for some mini trips each day so we will have an understanding that he can not be with us all the time. Tough love!!
I hope that we can get together with you and Cajun after the first of the New Year . . . Winston needs to have some "Cajun time". I think he really misses being around other dogs. Thanks so much for the Christmas gift to Nick and I . . . and to Winston . . . he is so special to us!" Debbie & Nick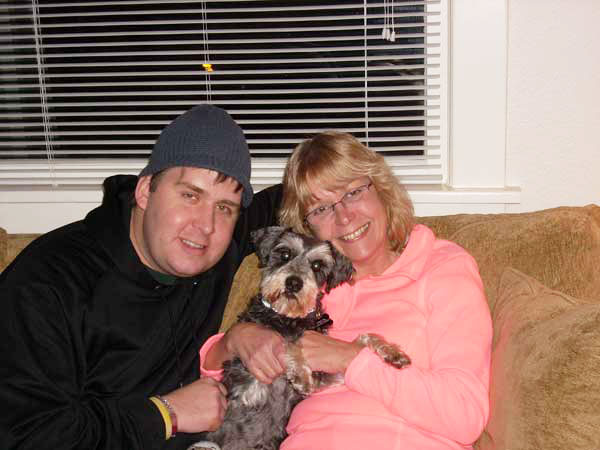 Debbie, Nick and Winston